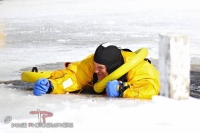 Bayport Fire Department Engine Company 1 will host the Lifeguard Systems Surface Ice Rescue Technician Level 1 & Level 2 classes in 2022.
As in the past, these classes fill up quickly.
Level 1 will be held on Saturday and Sunday (January 22-23, 2022) from 8am to approximately 5pm (3pm on Sun).
Level 2 will be held on Saturday and Sunday (February 19-20, 2022) from 8am to approximately 5pm (3pm on Sun). See separate posting/link about this class on our page.
To register and for more information: Click here
Level I – This class will teach your members to safely and rapidly rescue a victim, write SOP's that protect the members and department from liability, properly handle patients to prevent further injury and increase survival chances, and many other techniques that need to be used to greatly increase the odds of a successful rescue and the safety of the rescuers. No prior experience is necessary and Certifications for either full Surface Ice Rescue Technician or Operations Level is available. Added to the class again this year for all students is a specific EMS session addressing patient handling, cold water emergencies and patient care. A reduced cost, 4 hour session is available for EMS personnel who do not want to take the full Ice Rescue class but want to learn about the medical concerns and procedures. They will also be introduced to the operations and made aware of the procedures for Tenders and Ice Rescue Technicians however no on ice or hands on training will be conducted. See the attached outline for some of the questions which will be answered during this part of the class.
To guarantee your space in this upcoming class please complete the following form and send it back to us as soon as possible. Since the instructor to student ratio is scheduled prior to the class, walk in enrollments will not be permitted on the day of the class unless the student is an additional or substitute student of an already enrolled group.